"Truth is, they don't care about who we used to be or what we wanted to do. To them, we're just slaves. But if they thought this was gonna be easy... they came to the wrong fucking planet."
Mental's Horde is the name given to the military forces controlled by Mental. They are incalculable in number and very dangerous, capable of overrunning every planet they attack. However, most of his units generally lack tactics and often just charge into enemy lines of fire, meaning they lose enormous casualties in the process. This does not appear to obstruct them however.
Overview
[
]
Mental's Horde is an extremely large army that consists of an unknown number of various species, most likely in the many thousands, which is possibly why Mental always manages to defeat any species he encounters. He also recruits primitive races in order to bolster his ranks; he has created agreements with creatures such as the Aludran Reptiloids, so they can work for them in exchange for magical powers to use on their targets. Mental has even tampered with the evolutionary paths of some creatures so he can mold them into troops for his purpose. He also uses several methods to coerce races into working with him. Some species, like the Arachnoids saw Mental as a god and worshipped him. Another race, the Octanians, believed that Mental was 'purifying' the universe. In the case of the Aludran Reptiloids, he offered them magical combat abilities. In other cases, such as the Zorgs, he simply paid for massive amounts of disposable troops.
Mental is the last of the Hum-Tah, a race of extremely powerful rulers of large, intergalactic empires. His predecessors had peacefully and wisely ruled the empires, but Mental was different. For some reason, he became dedicated to wiping out all intelligent life. He destroyed the empires, then disappeared for thousands of years. In between these cycles of war, he would lie dormant and deactivate his forces, leaving some behind to detect any sign of intelligent life. When he detected them, he would awaken and activate his forces.
High-ranking members
[
]
Aside from the huge numbers of various species, Mental had also recruited intelligent creatures to serve as Generals in his army, such as members of the Ugh-Zan dynasty, owing to their sheer size, strength, and regeneration.
Mental also hired servants to bolster his ranks. Mordekai the Summoner was one such servant, who worked with Mental to properly use and research magic. Lord Achriman, ruler of the Shadow Plane, was Mental's chief philosopher and propagandist, and preached the deconstruction of the universe in favor of eternal commitment to Mental. During the Mental War, Achriman was in charge of the Earth campaign, and led Mental's armies across Earth during the Mental War to ensure the humans' defeat.
Teleportation
[
]
Mental utilizes portal technology to tranport one horde of troops from one location to another. Such portals were also placed on Earth during the Mental War in several locations, such as Rome in Italy or Tunguska in Russia. As the portals were a priority to Mental, he would have his Generals or his forces guard them from anyone who wanted to tamper with them.
Mental is also able to teleport his forces directly to any desired location, whether it be in a city, on an island, or deep underneath the Great Pyramid. Mental will usually teleport and deploy his forces in order to stop Earth Defense Force troops whenever they are near their objectives.
Not only is Mental capable of teleporting his forces at a specific location, he can also teleport them back onto a warship. An instance of this is when Sam fought a warship in Cairo. After dealing heavy damage to the warship, any troops that survived the battle were immediately teleported back onto the warship.
Genocide
[
]
As part of his scheme to wipe out intelligent life, Mental and his alien hordes stop at nothing short of genocide in order to maintain control.
An instance of this is when Mental discovered the Ellian species, who had came across the remains of the old empires once ruled by the Hum-Tah and pieced together who Mental was. Before they could do anything, Mental returned and destroyed them, then disappeared soon afterwards.
Mental's armies on Earth
[
]
The Mental War
[
]
Main article: Mental War
During the 22nd century, Mental was woken up by Sam Stone on the ship Surveyor after discovering a strange asteroid belt. Mental retailated and sent in massive hordes of forces at the humans, starting with the extraterrestrial colonies in Alpha Centauri. When the colonies fell, Mental tracked the retreating humans back to Earth, a planet he was not aware of at the time. During the first phase of the war, he set up a massive portal in Tunguksa, Russia, which served as a bridgepoint for his forces to invade Earth. By the time this portal was established, several smaller portals were set up in towns and cities to allow Mental's forces to quickly overrun them.
In the later days of the war, Mental deployed a massive fleet of Alcor Class Warships, each carrying tens of thousands of troops, down onto Earth. By the time they arrived, the humans were at a massive disadvantage due to the sheer size of Mental's armies. This lead to a large conquest that had driven humanity almost to the point of extinction. During the conflict, humanity took massive casualties, though the exact number of this is unknown. It's possible that, due to military forces having lost or struggled to fight off against the invaders, the deaths were in the many millions. During the final stages of the war, it's clear that humanity had lost. Most or all of the inhabitants of towns and cities had been wiped out by Mental, and it seems that all that was left was a small group of Earth Defense Force soldiers posted somewhat near Cairo.
In a last-ditch effort, the world leaders turned to their last chance: the Time-Lock, a strange alien device that Mental was not aware of. The device, which had been recently excavated, supposedly could grant a single person the ability of time travel via an inter-dimensional portal. Through it, that person could reach a pivotal point in time and alter events of the past. But as the device laid dormant, they had to first discover a means to activate it.
Propaganda
[
]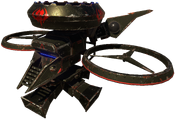 Mental and his servants use many forms of propaganda to assure Mental's military influence on whatever planet they're invading. Earth was one of many such planets. Such propaganda included using posters or propaganda drones that could be found in cities all around the world. The propaganda drones would fly around the streets, showing the logo of Mental's army and taunted any surviving humans into surrendering and show them 'a new way of life' so they could become processed.
Human killings
[
]
Mental showed no remorse towards the human race, and sent his alien hordes to eliminate anyone who opposed him. The human military forces fought back against the invaders and tried to repel their attacks. However, they were no match against Mental's superior technology and the sheer number of his forces, and were eventually overrun by them.
As a result of the heavy casualties that humanity suffered, many cities became abandoned and there were little to no signs of life. Abandoned cars and other vehicles littered the streets, many houses and other buildings had been destroyed or reduced to rubble by warship scorcher beams and Octanian Raider bombings.
Finishing off humanity
[
]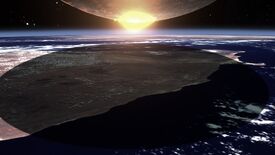 During Sam's journey to power up the Time Lock, Mental staged a final attack on the Earth Defense Force's headquarters, completely wiping it out. Now that the last bit of resistance had been taken out, Mental prepared to finish off humanity once and for all, by hurtling the Moon into the Earth. In this timeline, Mental managed to finish off humanity, just like all the other species that encountered him.
Technology
[
]
Mental utilizes both technology and magic to achieve his goals. The diversity can be seen in his army, where he uses cyborgs, executed enemy soldiers raised from the dead, reanimated skeletons of long extinct races, trained war animals, clones, creatures made out of pure magic, robots, mercenaries, or even plain vehicles.
For instance, when Mental found the Aludran Reptiloids, a race of four-armed reptilian creatures from the Aludran system, they agreed to join his army, and in return, gave them magical powers that allows them to conjure homing projectiles from their hands.
To bolster his ranks even further, Mental has gone as far as to tamper with the evolution of certain species, such as the Fiendian Reptiloid Demon. These creatures were once simple, lizard-like organisms from Fiendia Prime, until Mental found them and crossbred as well as mutated them through several generations, until they were reinforced with a titanium skeleton, which increased their endurance, thus making them formidable opponents.
Forces
[
]

Mental's hordes consists of all kinds of creatures, including cyborgs, soldiers or mercenaries, vehicles, creatures made out of magic, and many more.
Infantry forces
[
]
The majority of Mental's forces are made up of soldiers or light units. They are often equipped with advanced weaponry, such as laser or plasma rifles and other standard-issue firearms, while some are lesser species that are not very intelligent or organized. Despite this, Mental still decided to train them. Some of Mental's weaker units serve as cannon-fodder, charging towards the enemy in the line of fire.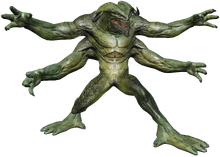 Support units
[
]
Mental's forces that mostly have ranged attacks, such as firing projectiles at targets from a distance. Others are equipped with ranged or automatic weapons to give them the upper hand in combat situations. As such, these enemies are often placed far away, such as on rooftops or other high areas, or to sometimes support the attacking force as a way to distract the target.
Vehicles
[
]
While they play a small role in Mental's forces, they can still be useful nonetheless. Some vehicles are able to ride on land, while others can fly and provide support to the attacking force.
Cyborgs and robots
[
]
Most of the cybernetic creatures or robots that are part of Mental's forces have gone through extensive artificial or manufacturing processes, or were grown as biological mechanisms in Mental's bio-tanks. Some of these organisms have had their genome programmed to give them biologically grown mechanical parts.
Creatures and wildlife
[
]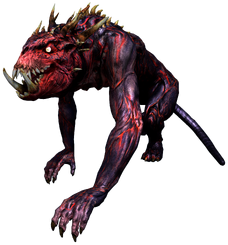 Though not really considered to be part of Mental's ranks due to their low intelligence or other reasons, Mental still nonetheless decided to have these creatures included in his army. They are often from different planets, and have many unique characteristics. Some of these creatures have been altered by Mental to enhance their capabilities.
Combat technology
[
]
Mental employs many devices and weapons which are used for monitoring important locations, or to defend a strategic objective, and are powered by magic, technology, or both. Some of these weapons are human inventions that have been re-designed or modified by Mental to enhance them for his own needs.
Trivia
[
]
Gallery
[
]
Factions or organisations

Allied factions
Mental-affiliated factions