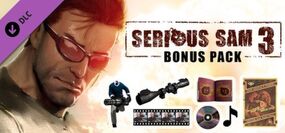 The Bonus Content is a DLC for Serious Sam 3: BFE. It is available to purchase on the Steam store for $9.15, or £6.99 in the UK.
Overview
[
]
Unlike other DLCs in the series, the Bonus Content doesn't add a new campaign. Instead it includes several new features, which consists of:
The original soundtrack of the game in AAC, FLAC and WMA formats.
The Brett Sanderson player model.
A sniper scope for the AS-24 Devastator, but only for the single-player campaign.
A making-of video of the game (in Croatian, with English subtitles).
A digital 42-page colored artwork album.
A digital copy of the game's box art.
High-resolution images of the game's posters.
High-resolution versions of the game's different trailers.
External links
[
]