The Adult Arachnoid is an enemy featured in Serious Sam 3: BFE, Serious Sam 3 VR: BFE and Serious Sam VR: The Last Hope.
The Adult Arachnoid is a holy warrior from a primitive race that evolved from arthropods. It is extremely hostile due to its reilgious convictions. It has a mouth on the bottom part of its body, and yields two augmented chain guns which are concealed within its pincers. Like their Serious Sam 1 counterparts, they look very much like scorpions, with six legs and a large sting, as well as two pincers, though they have a humanoid body and head.
They are much tougher than those of Hatchlings, with a stronger exoskeleton and augmented armor, which allows them to survive multiple rounds of gunfire and several rocket blasts.
Occurrence
Edit
The first Arachnoid appears as a boss in Into the Spider's Nest, just as Sam is about to exit the Egyptian Museum. Later in the game, Adult Arachnoids serve as harassment units, providing supporting fire to other forces. Unlike the Arachnoids from the previous games, most of the Arachnoids in these installements are located on ground level as opposed to rooftops and columns. Also, they appear in groups of one to two and in places where it's possible to take cover.
Behavior and skills
Edit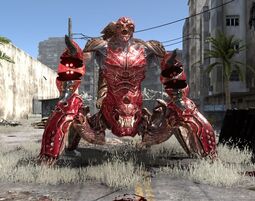 The Arachnoid has a different attack pattern compared to their Serious Sam 1 versions; while they shoot decently-damaging bullets at a rather average rate, this Arachnoid shoots low-damaging bullets at a very fast rate. It opens its pincers and starts shooting a burst of 20 bullets per hand (40 in total), then stops, and repeats that sequence after a short interval. Compared to the classic Arachnoids, it is also faster, can often avoid slower projectiles and is not as susceptible to flinching while damaged. If the player gets too close to an Arachnoid, it will whack them with one of its pincers.
The miniboss version's bullets can pierce through the debris the player is probably hiding behind, destroying them. It also has roughly three times as much health as normal.
In Serious Sam VR: The Last Hope, Adult Arachnoids have their arms replaced with rocket launchers instead of built-in chainguns. As soon as they see the player, they will raise their arms up and fire a burst of rockets.
Serious Sam 3: BFEEdit
Serious Sam VR: The Last HopeEdit
List of appearances
Edit
References
Edit
Community content is available under
CC-BY-SA
unless otherwise noted.